(*News runs from the oldest at the top to the newest at the bottom, so always scroll down for more!*)
See these three dolls?
"Evil Ernie" -- A Chaos! Comics Character
These are now owned by Tommy Castillo, and if I have to explain who he is, than you probably don't read comic books. Think George A. Romero's "Toe Tags," comics! The three of these were taken to July 2005's San Diego International Comicon, where they were seen by 150,000 people including Thomas Jane and SETH GREEN!!! (And they liked them!!!) Plus, the guys at Chaos! Comics enjoyed Evil Ernie so much, they wanted one of their own. Tommy is a wonderful person, so I want to officially say THANK YOU to him, and thanks to Carrol Chappelear, who got us talking in the first place. Check back here for more news and updates about my doll's & my career....
Click here to visit Tommy Castillo's Website

Weird Pennsylvania is finally here!
My Contribution to "Weird Pennsylvania"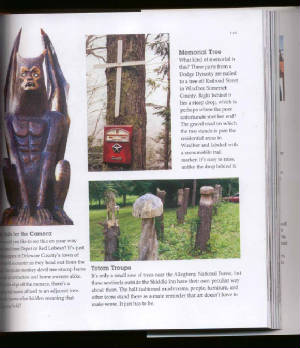 On page 149 under the heading "Memorial Tree" you will find my photo and contribution to the AMAZING full color, hardback coffee table style book, entitled:
Weird Pennsylvania
. From the men who brought you "Weird NJ Magazine" and
Weird U.S
., written by my friend, Matt Lake. Go to
www.bn.com
to purchase your own copy; it is WELL worth the price, and full of creepy weirdness from all over my home state! Including: Local Legends and Lore; Roadside Oddities; Quaker State Ghosts; Cemetery Safari; Abandoned Places and so much more. You DO NOT want to miss this!
CLICK HERE To See the Book: "Weird Pennsylvania"

Two new websites where you can see my work:

In August 2005, this doll was sent as fan art to the "Rue Morgue" magazine. Next to "Weird NJ," it is definitely my favorite...
The "Rue Morgue" Dead Girl
Here's what Rod Gudino had to say about her:
"Hi Holly thanks for your Creepy Dolly….she's great!!! We've given her a dreary home here at the Rue Morgue House of Horror. Thanks again and hope to see you at the Festival of Fear…
Stay Ghoul…!
Rod Gudino
President/Editor-In-Chief
RUE MORGUE Magazine"
Click Here to See the Rue Morgue's Website!
And click HERE to see Weird NJ's website!

These 3 dolls were sent to Mezco Toyz on Halloween, along with my customer surveys and letters of recommendation from Tommy Castillo and Matt lake. THANK YOU to everyone who had a hand in making my portfolio ROCK! :)
Unfortunately, on December 2nd, 2005, I received word that Mezco Toyz would not be accepting my work as one of their many cool product lines. Though I am saddened by this, I want to thank them for giving me their time and consideration; it was a great experience and it meant a lot to me. To all my customers and those who filled out my surveys, I will NOT be giving up. I am seeking addresses (e-mail and snail mail) for toy companies who make darker, Gothic products so I can submit to them next. My ultimate goal is to find someone who will work with me, manufacture, and distribute my dolls all over the world and in stores like Hot Topic, Spencer Gifts, Tower Records, Suncoast Videos, etc. Thanks to everyone for their support, and if I send this presentation out to another company(s), I'll be sure to talk about it here.
:)
In the meantime, if you have any addresses or suggestions for toy companies who you think might like to see my work, don't hesitate to send me an e-mail. I appreciate it!

These four dolls are now owned by the band Bridget Bishop. I will not recreate these under ANY circumstances, as the band owns the copyright to their designs, as well. They were inspired loosely by the movie "The Crucible." One day soon, we all hope to see them for sale on Bridget Bishop's website...
Bridget Bishop Band Dolls

Here is my version of H.R. Giger's Alien...
In Tommy Castillo's private collection:

The TAPS Ghost Girl is finally home! Thanks to Brian Harnois for calling me to let me know she arrived safely, and for letting me know how much he liked her. TAPS is the only paranormal investigative group that I respect and admire 100%. Be sure to check out their show on the Sci-Fi Channel:
Ghost Hunters
This doll will never be recreated for anyone outside of TAPS's organization. She is truly an OOAK piece of art. Be sure to check out their website at:
www.the-atlantic-paranormal-society.com

To date, one of the most exciting things to happen to me was when Tommy Castillo recently gave my doll, The Queen of the Zombies, to George A. Romero. I mean THE George A. Romero. I made it for him as fan art, with a letter, and it was a thrill and an honor to know it was hand delivered, and loved by its recipient. I don't think I could be more excited to know a man I admire and adore, both for his contribution to the world of horror and for his genius, owns and loves one of my dolls. How cool is that? THANKS again to Tommy Castillo...he continues to make my world a happier place! : )
This doll will NEVER be recreated under any circumstances. She is George Romero's OOAK piece of fan art, and shall forever more remain that way...
The "Official" George A. Romero Website

This is technically "old" news from 2003, but I didn't have this page back then, so there was nowhere for it to go. I was involved with a Goth Art Doll Swap, led by my dear friend, Karen Shelton. Every member of our "Round Robin" was interviewed by Pamela Hastings (including me!) for her book, "Doll Making as a Transformative Process." Check out her website at:

(*Images are copyright protected and owned by Drop Dead Photography. Use without permission is strictly prohibited!*)
My Doll in a Professional Photo Shoot: Thank you to the amazingly talented Lizzy Mares for allowing me to show these photos on my website. The "Vampire Belly Dancer" can be seen in the above photos, along with the gorgeous model, Miss Mercy. Check out these links to see more of Lizzy Mares' work:
And stop by MySpace to check out Mercy's site:

A special thanks to Mark Sceurman and Mark Moran of Weird NJ Magazine, for doing this beautiful, full color article in the May 2006 issue. I appreciate it SO very much, and I hope everyone who reads the magazine liked it, too. If you are curious, it is on page 55 and the paragraph reads: "I've been creating dolls and selling them on eBay for over five years now, and have been lucky to meet hundreds of wonderful people, including the amazing comic book artist, Tommy Castillo, and the author of Weird Pennsylvania, Matt Lake. My dolls focus on dark and morbid subject matter, but not in an overly terrifying way. Goth and fun, spooky and weird, you can find "voodoo" dolls, rag dolls, purses and more on eBay and at my website. My ultimate goal is to connect with a toy company who would like to work with me and manufacture my dolls for distribution within the global market. I'd like my art to someday haunt the streets of Tokyo and London! I am inspired by all things weird, Halloween, El Dia De Los Muertos, scary movies, and my dreams." Go to this website to subscribe to this twice yearly magazine. You will NOT regret it, and you don't have to live in New Jersey to enjoy it:

Thank you, Chris (aka Stoopid Preacher) for interviewing me at the Dark Obsessions website. It was a huge honor for me and so much fun! If you are into all things horror, check them out and join in on the discussions. Click here to read the interview: